Jesse Mohrlant is a Volkswagen type of guy. I really didn't know how deep Jesse Mohrlant was into Volkswagens until I had an opportunity to participate in a photoshoot Team Foreign Objects had arranged. And yes, Jesse's roots run deep indeed with what some may refer to as a Volkswagen addiction. One very early Saturday morning, can you say no sleep for yours truly so I wouldn't have a problem waking up, a couple of the Team Foriegn Objects members and I rolled out towards the Mahaka area for a sunrise photoshoot and Jesse brought TWO of his Volkswagens for the shoot. Yes you heard that right, two Volkswagens which he current owns. A daily driven gas saving monster mpg to envy 2012 Golf TDI 4 Door and a weekend warrior 2012 Golf R 4 Door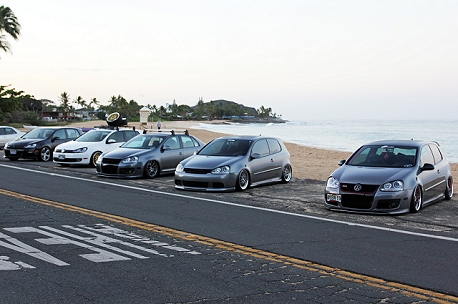 As the morning progressed as SantiaGO Photography | SantiaGO Photography FB and I took our respective shots of the Team Foreign Objects cars as a whole as well as individual shots, we wrapped it up in the Makaha area and headed towards our second destination that being Pokai Bay
As I photographed Jesse's 2012 Golf TDI 4 Door, I admired the fact that it was a very clean daily driven car and that he also has a 2012 Golf R 4 Door for the weekends. I myself daily drive a 2003 Lexus IS300, taking 1st Place in Lexus Class @ the 2012 Spo Com Show Hawaii, so Jesse's daily driven TDI definitely sparked my interest to dig deeper into his involvement with Volkswagens. I mean who wouldn't be curious as to how & why he brought two of his volkswagens, both 2012 models which is fairly new in my book, to the Team Foreign Objects photoshoot. A little messaging via FaceBook and an email here and there and this is the story behind Jesse Mohrlant: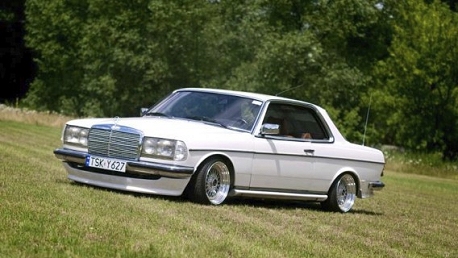 While the car above this paragraph is not Jesse's car, it is the one that started his euro sickness dating back to 1986. As a young 18 year old Army Private assigned to Germany, one of the guys in Jesse's barracks had one just like this. He loved the car so much that he use to wash it for it's owner just to get an opportunity to drive it! The car had a 5.6 liter mercedes motor swap, BBS RS wheels and tan leather interior. It started an incurable euro sickness that has influenced every car Jesse has owned
Since Jesse's arrival to Hawaii in 2002, he has owned more than 20 cars over half of which were euros. Everything from his Matchbox style car (2002 Beetle GLX on Racing Hearts, lowered suspension, and a full Cosmic Airbrush paint), to a Rieger'ed and Brocked GTI, to a GLI, to an Osnabruck built Chrysler Crossfire clad SLK320, to a 20th Anniversary Golf, to an R32, to a MkVI GTI (K04 Turbo), to a fully modded K04 Turbo CC with full euro R-Line kit (photos above), to the TDI and the Golf R that we have featured. And to think, these are just the rides Jesse has accumulated during his stay here in Hawaii Nei!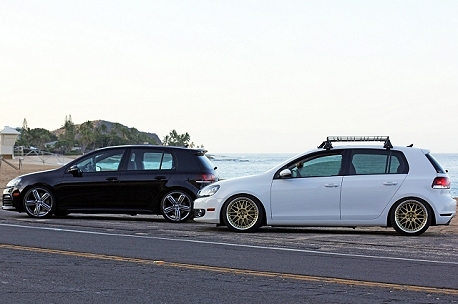 While all of Jesse's cars were modified, the CC and R are definitely the two most heavily modified. Since 2007 he has maintained 2 dubs in the garage with the exception of a brief period of time when he transitioned from Haole to Haole boy and rolled an obligatory Toyota Tacoma. The gas prices was killing Jesse as he rolled in his Tacoma dropping $80.00-100.00 a week in gas so the TDI met his two goals in finalizing it's purchase. First, he wanted great mileage (He get's 45+ MPG with a lot of stop & go drving as well as driving in town, and it's still breaking in). Second, nothing screams euro more than a turbo diesel! In europe they are everywhere! End state for the TDI would be a full GTD conversion, but only time will tell. For Jesse, it is about subtle mods that you don't notice if you're not a true enthusiast. Keep a close eye though, when the ashtray is full, or Jesse gets bored, or the car is done, she gotta go!
SHOUT OUTS: To the TFO Family; for ALWAYS being there. Premier Hawaii, APR, Tommy and the crew at Tony Volkswagen. And to the whole euro and car enthusiast community that keeps me motivated!
Found below are more photos of Jesse's 2012 Golf TDI 4 Door & 2012 Golf R 4 Door. Enjoy!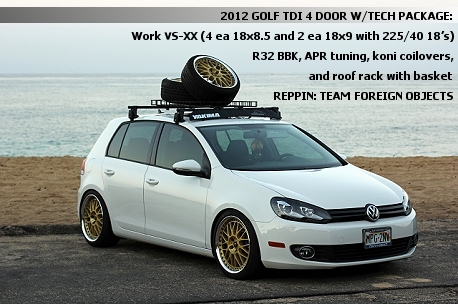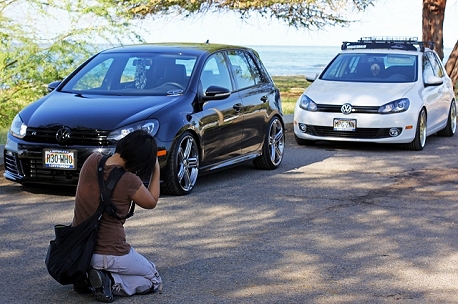 Found below are more photos from the Team Foreign Objects 4.20.13 Photoshoot & the rides that came out. Enjoy!
For more information regarding Team Foreign Objects, be sure to check out their official website over @ WWW.TFO808.COM | Team Foreign Objects! Be sure to "LIKE" their Facebook page as well by checking out TFO EUROS!
Be sure to check out the 2013 Team Foreign Objects Show & Shine as well benefiting the Hawaii Food Bank, Saturday, May 25th, 2013 @ Podium Raceway from 11 a.m. till 4 p.m.! Be there or be square, and come out to support a great cause! More information can be found within the flyer found below!